The 7 Best Proofreading Software to Level Up Your Writing
It's best practice to proofread an article or novel after spending hours writing it to look for grammatical, spelling, and punctuation errors. The reader's experience is significantly enhanced by clear, accurate content, making proofreading a crucial sort of editing.
Rereading their work and looking for little faults can be unpleasant and time-consuming for many writers, especially since it's simple to lose sight of one's own writing. Fortunately, you may quickly find significant errors by using a variety of proofreading software programs.
The 7 best proofreading software:
Grammarly
ProWritingAid
Antidote
LanguageTool
Quillbot
Scribens
Ginger
Let's delve in and see how these tools can improve your writing, whether you're a student, novelist, or casual writer.
Grammarly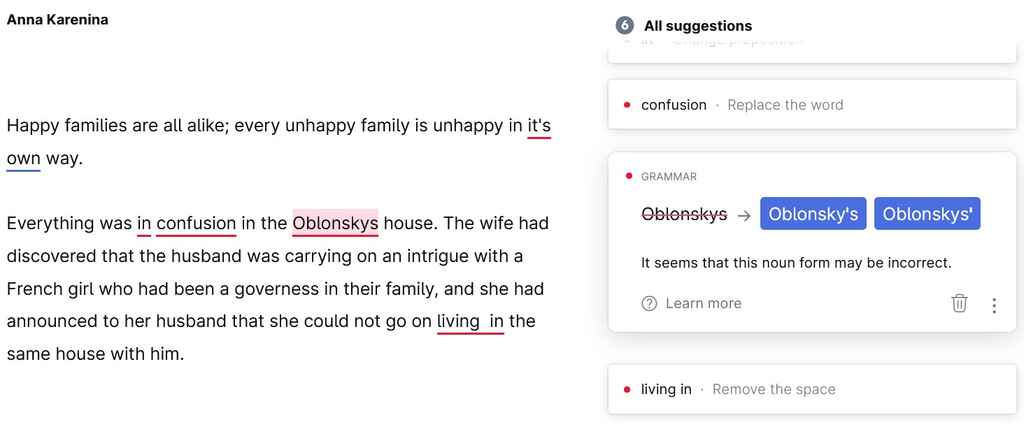 💰 Price: Free | Starts at $12/month.
✅ Best for: Students, and casual writers.
🖇︎ Compatibility: macOS/Windows desktop app, web app, browser extension, mobile app.
The web's most well-known proofreading tool, Grammarly, offers a free plan that enables you to swiftly repair errors and receive advice that is specific to your objectives (for instance, informal vs. formal tone, general vs. knowledgeable audience). Nevertheless, the tool is not infallible and should not be relied upon completely for important tasks, such as the self-publishing of a book, for instance.
The majority of writing and publishing apps, including the Reedsy Book Editor, are compatible with Grammarly's browser extension, making it convenient to write, edit, proofread, and publish in one location.
ProWritingAid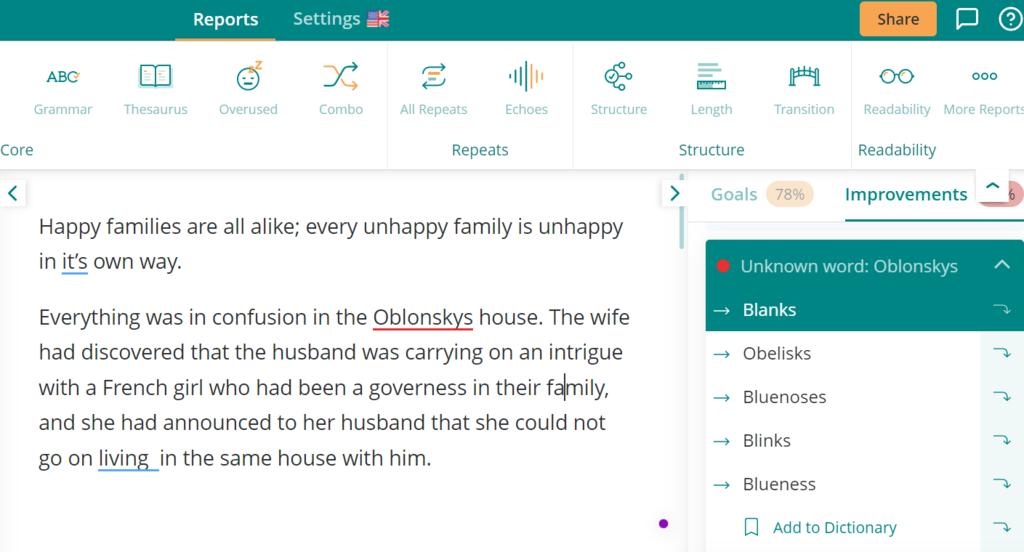 💰 Price: Free | Starts at $20/month.
✅ Best for: Students, authors.
🖇︎ Compatibility: macOS/Windows desktop app, web app, browser extension, Scrivener. No mobile app.
ProWritingAid, possibly Grammarly's main rival, has a comparable user-friendly layout and offers rudimentary proofreading features in its free version. However, its premium edition distinguishes itself by going beyond simple editing and providing ideas for better story organization, transitions, language, and general readability. Compared to Grammarly, this makes it more appropriate for fiction authors.
ProWritingAid's yearly payment saves you 67% even though it is more expensive on a monthly basis, making it a strong contender for "best value for money." To learn more about ProWritingAid and to receive a 20% discount, read our review.
✋ Despite how beneficial these tools are, experienced (human!) proofreaders are still necessary because they have a more in-depth knowledge of the language. Consider hiring a proofreader if you want to write for professional purposes; you can find plenty on Reedsy's marketplace.
Antidote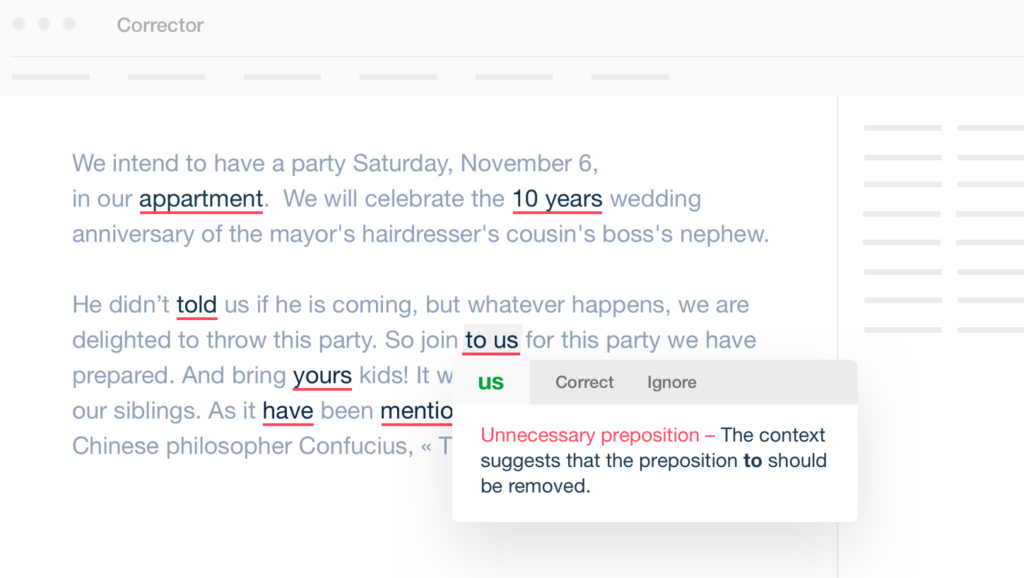 💰 Price: $59/year | $119 lifetime deal.
✅ Best for: Academics, authors.
🖇︎ Compatibility: macOS/Windows desktop app, web app, mobile app.
Despite being in the market for 25 years, Antidote has received less attention than some of the alternatives we've already discussed. It does a great job of checking both grammatical and typographical problems while making recommendations on style, vocabulary, readability, and even gender neutrality. It is mainly geared toward professionals and academic authors. You regretfully cannot try it out before committing without a free trial, but if you do, you'll find its yearly subscription pricing to be quite affordable.
LanguageTool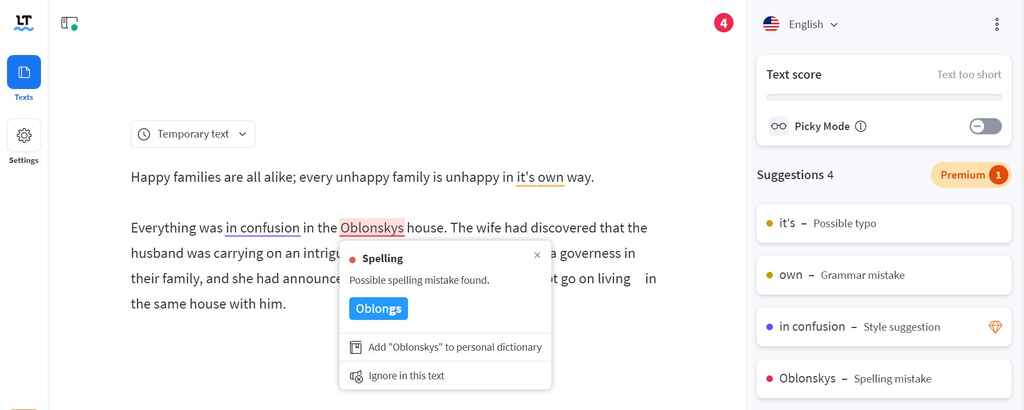 💰 Price: Free | Starts from $5/month.
✅ Best for: Students, and casual writers.
🖇︎ Compatibility: macOS, Windows, all browser extensions, Google Docs/Word plugin.
A user-friendly proofreading program with many of the same fundamental capabilities as Grammarly and ProWritingAid, LanguageTool is considerably less expensive. Its premium editing suite can seem weak in comparison to competitors because it focuses on assisting informal everyday writers. But if you don't need a lot of direction (or just want to get better at writing emails and essays), you might like LanguageTool's quite low subscription cost.
Quillbot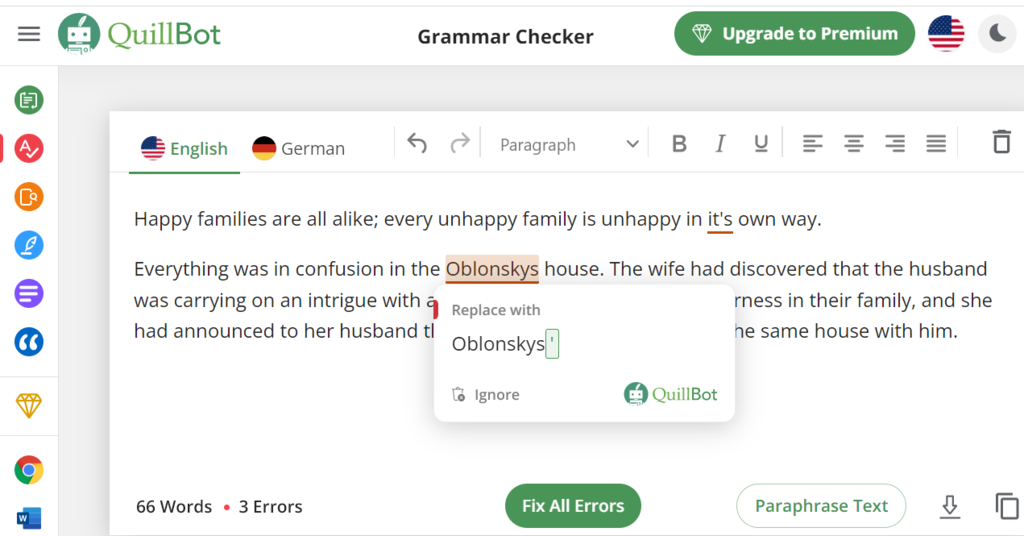 💰 Price: Free | $19.95/month.
✅ Best for: Any writer.
🖇︎ Compatibility: Web app, Chrome, and Word extension.
The Swiss Army knife of writing is QuillBot. It provides resources to assist with grammatical checking, citation creation (for nonfiction or academic work), paraphrasing and summarising. Its proofreading abilities are comparable to those of ProWritingAid and Grammarly in this regard. However, it provides a lot fewer features (like spotting overused or repeated words, for example). Overall, its free version can be beneficial to any type of writer and an excellent beginning point for proofreading (particularly as a browser plugin).
Scribens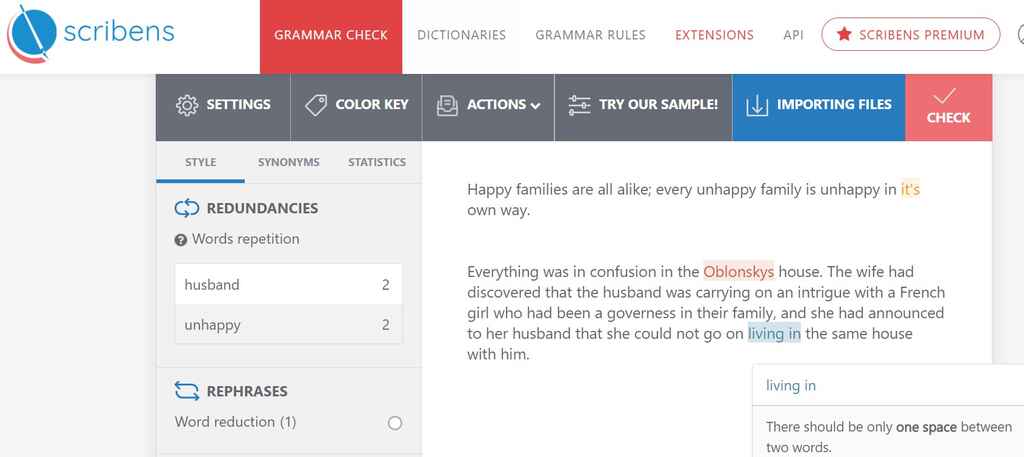 💰 Price: Free | Starts at $9.90/month.
✅ Best for: Students.
🖇︎ Compatibility: Web app, browser extension, Office, mobile app.
The simple proofreading web software Scribens is effective at identifying grammatical, typographical, and word repetition mistakes. In particular for students, its cheap package and useful browser extension make it a decent proofreading option, but the premium version might not be pricey enough compared to more feature-rich alternatives like Grammarly.
Ginger

💰 Price: Free | Starts at $13.99/month.
✅ Best for: Casual writers.
🖇︎ Compatibility: Desktop/web app on Windows, Chrome extension, mobile app.
Ginger is a straightforward tool for spelling, translating, and rephrasing, with the last one being possibly its most useful. It's not the most thorough solution for proofreading because it doesn't seem to catch minor errors like possessives or multiple spaces. You can still use it, though, to fix minor errors or reword poorly written lines.
This list should make it easier for you to choose the best proofreading software, whether you're a novice or an experienced writer. But keep in mind that while they can be quite useful in improving your writing, they can't take the place of a professional proofreader, so for your more challenging tasks, think about hiring one.